After you have amassed your enormous GOODBYE pile with the help of Purging – Part 1, it's time to decide how to say goodbye.
Sell or Consign "Goodbye" Items
There are a myriad of online outlets through which you can sell items. In this blog, I detailed many options for online clothing sale. These sites are great for (mostly) women's clothing of mid to higher-end value. If you have a lot of stuff, eBay is the go-to option. Next week, I will post a major eBay blog, including how to start the process. Alternatively, there are resale apps (like LetGo and OfferUp) popping up and resale groups on Facebook and Next Door.
If you choose to go offline, most communities have at least a dozen brick-and-mortar options. Places like Buffalo Exchange and Plato's Closet are available in most major and mid-sized markets. They only buy current trends, usually in-season clothing and accessories. Call your local store before schlepping down because each store's needs vary. Try Once Upon a Child for your children's clothing and Play it Again Sports for athletic gear.
If you have more than clothing to sell, see if your local area has something like Resale Houston. Resale Houston is an online and print free publication that lists all sorts of items, like furniture, home goods, wedding, antiques and collectibles, sporting goods, and all clothes, including children's, plus-size and maternity.
Donate "Goodbye" Items

Charitable services are great but you need to know whom you're donating to. Many for-profit thrift stores arrange to use a charity's name to collect donations in exchange for a flat fee or a percentage of the revenue. This is true for almost all drop boxes you see in strip mall parking lots. Often, this deal is not publicized and the charity makes less than 5¢ for every $1 earned. Do your research!
Goodwill
I donate to Goodwill because they are transparent: 82% of their revenue goes directly into employment and training programs for people with disabilities and other barriers to employment. Donations are almost always tax-deductible so be sure to get a receipt and document the items donated. Good Will now offers an online receipt system, which is really convenient at the end of the year. If you are donating large items, you can arrange for Goodwill to collect them at your home or office. While they're there, they will accept all of your smaller items as long as they are properly packed or boxed.
Dress for Success
If you have professional apparel, I highly recommend donating it to Dress for Success or Career Gear. Both organizations promote the economic independence of disadvantages women and men by providing professional attire, a network of support and career development tools to help women and men thrive in work and in life. Please be mindful of what they accept: seasonal, interview appropriate clothing that is in style, on hangers, and ready to wear to an interview.
Your area may also have a creative reuse center. They accept random things that can be useful for art projects and usually also offer lots of classes, host art shows, parties and events. Texas Art Asylum is an amazing option in Houston. They accept baby food jars, blankets, books, broken things, cards, coffee cans, craft kits, fabric selvages, feathers, feed sacks, flooring, flower pots, games, glass, guitar picks, hardware, industrial discards, jewelry (even broken!), keys, knobs, lamp shades, mirrors, oatmeal containers, paint cans, picture frames, "ric rac", rope, scrap lumber, spools, tape, teeth (no kidding), wine bottles, and yarn. See the entire list here.
Gift "Goodbye" Items to Another
Regifting is another option. In fact, this could really cut down on holiday shopping this season (don't worry, I won't tell). However, you need to be careful with this. Do not simply pass off something you don't want but feel bad about "getting rid of" to someone else. Make sure it is something appropriate, something you would want to receive as a gift.
Recycle "Goodbye" Items
Some things can be and should be recycled, especially batteries, light bulbs, and electronics like computers, office equipment, televisions, cell phones, and consumer electronics. There are computer recycling companies who would be more than happy to take your old electronic devices off your hands. Do not use recycling as a procrastination tool, refusing to let an item go unless it is recycled perfectly. You can read more at here.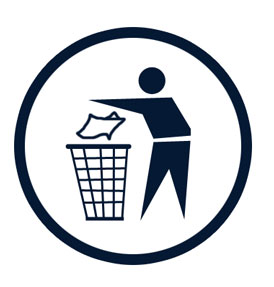 Trash "Goodbye" Items
It's a hard fact to face but some things are trash; no one wants them. Let it be trash. Be sure to properly shred sensitive documents. Some mailbox and copy places offer a safe box where you can deposit documents for shredding but I feel more secure using a business like Southern Shred. For home or office cleanouts, they charge per container. Each container can hold up to 7 standard banker/copy paper size boxes or 4 file size boxes, approximately 250 lbs. It's $51/container for them to drop it at your house and pick it up when you are ready or $34.05 if you transport it back to them.
Waste Management now offers The Bagster. For about $30 you can have a bag dumpster delivered to your house. Another option is waste management for hire. It can have a 24-hour turnaround between skip orders and deliveries. Check out Amazon for more competitive pricing. You can then fill it with up to 3,300 lbs. of debris or waste then schedule a pick up. Pick up can be a bit expensive ($120 more or less) but it saves you from making the trip to the junkyard.
If you are going to the landfill, be sure to read the rules before going. For example, to use the Solid Waste Depository in Houston, you must have a current Texas Driver's License AND a current City of Houston utility bill (names must match).
Clearly, there are a number of avenues you can use to say "Goodbye" to your unwanted items. If this all seems overwhelming, you can call a haul away service like College Hunks Hauling Junk as a one-stop goodbye shop. As the industry's leader in eco-friendly disposal, they donate or recycle around 70% of everything they take.
So, are you ready to say goodbye to your clutter?