When I moved to Houston in 2013, I was looking for ways to get involved in my community and learned about Child Advocates. Since then, this organization has been near and dear to my heart. In addition to volunteering for special events, I've also served as an Advocate for two years.
What is Child Advocates?
Child Advocates recruits, trains and supports volunteers who provide a voice for children in foster care. As Harris County's Court Appointed Special Advocates (CASA) program, we provide life-saving advocacy that helps abused and neglected children exit foster care to a safe, permanent home as quickly as possible.

Child Advocates, What We Do
This April, Child Advocates has partnered with ReUse Textile Recycling Services for a clothing drive – just in time for Spring cleaning! By simply cleaning out your closets, you can help Child Advocates continue their life-changing advocacy work.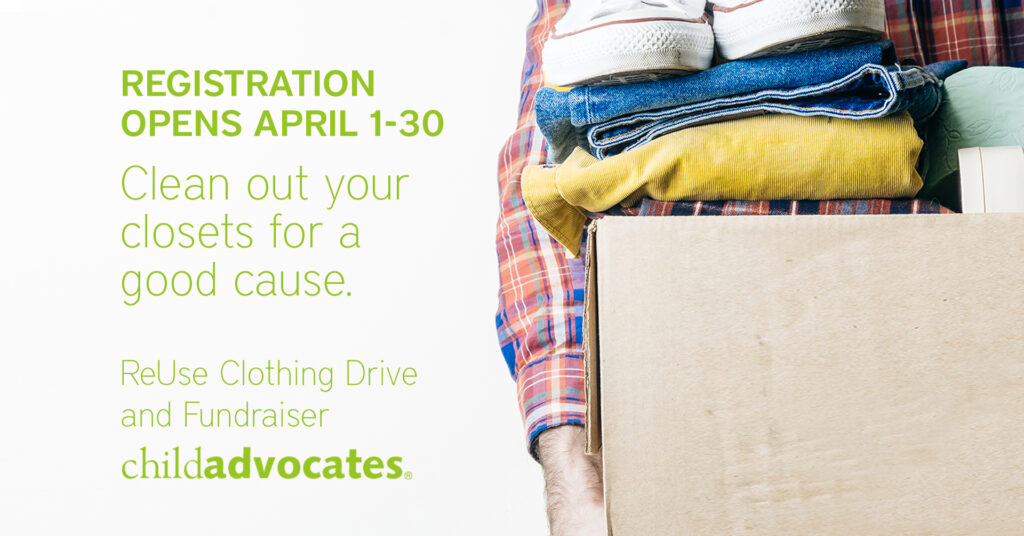 Here's how you can participate:
Gather your used clothing, shoes, and even household textiles.
Register for a pickup and select Child Advocates as your charity of choice.https://reusetrs.com/#/account
ReUse will email you to assign your pickup time. On average, pickups occur 7 days after sign up.
Place your donations outside on the day assigned to you by ReUse.
Child Advocates will receive funds for every pound collected!
All textiles are accepted, including:
Clothing | Belts | Sheets | Purses | Towels Blankets | Shoes | Curtains
Questions? Contact Hayley with Child Advocates.