How can a small home office create so many problems?
Moving into a new space presented a home office problem for these homeowners. In their former home, the office allowed for a large corner desk with multiple file drawers and a large hutch storage cabinet. The new office has very little space (35 sq. ft.) and a number of windows (three plus the door) which limited furniture placement.
Because this area is not permanently going to be an office (there are hopes it will become a nursery in the future), we set a pretty strict budget, utilizing IKEA and Overstock.com.

IKEA – Micke Desk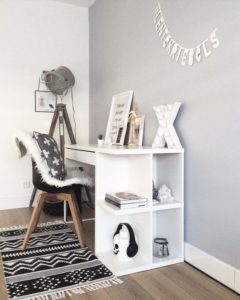 Unfortunately, the exact Micke model is no longer available but IKEA has a number of other options from that family. I borrowed the photo on the right from @j.and.l.interior so you can see the side. We put the desk on wheels to make the storage closest to the wall accessible. In this area, the home owner keeps a small fire-proof box holding all those super important papers that she very infrequently needs to access. The shelving in the front is home to three sets of DOCUMENT holders. Side note: a set includes two differently sized magazine files. This should be obvious since they come with one nesting inside the other. However, the website says nothing about this size difference. These file holders house card stock, specialty paper (things like mailing labels and photo paper), construction paper and printer paper.
File Cabinet
Finding the perfect file cabinet is not an easy task. Criteria for this space include: white (not off-white, two file drawers, 25″ or taller, less than $100). This cabinet from Overstock.com fits the bill! I love this unit even more because of the bonus third drawer. Lastly, we used a basic monitor stand to create more room under the printer.
Additional Storage
Because the homeowner's previous desk set-up had more space, we needed to get creative. Above the desk and on the opposite wall, I installed a total of three LACK Floating Wall Shelves. I love these shelves because they are inexpensive, available in four finishes, and incredibly easy to install. Seriously, it takes me five minutes or less to install each shelf.
The KVARNVIK boxes are the perfect compliment to this space. Unlike a lot of box options from IKEA which are just thin cardboard, the KVARNVIK is super sturdy, with material-like finish. Additionally, you can install the label holders on either side of the box. In my photo, you can see the labels are on the longer side, which is perfect for shallow shelves. For deeper shelves, you can install the label holders on the shorter side. I know there is a better way to explain what I'm talking about but I can't think of it right now! In the boxes are things that were formerly in drawers: craft items, momentos waiting for a scrapbook, greeting cards, envelopes and stamps, cords and chargers, extra office supplies. The final touch is the Umbra Magnetic Bulletboard Strip from The Container Store.
To read more about the products used in this project, visit this blog.
What Are Your Favorite Home Office Products?