I had a few requests for more information re: the products I meantioned in my last blog, Super Small Office. Here we go: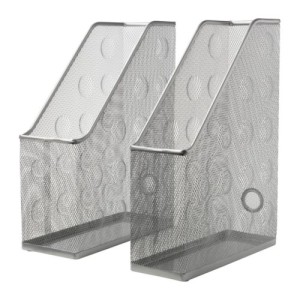 DOKUMENT Magazine file. For $6.99, you get a set of 2 files. I use these for a myriad of purposes, none of which is storing magazines. I love the modern, industrial look of the silver and they fit perfectly in the MICKE desk and everything in the KALLAX series. They also come in a riduclously bright pink suitable for a playroom. I must point out, though, that the two files are NOT the same size. This is pretty evident if buying in store since one is inside the other but may slip one's attention if purchased online. The large file is 10 x 13 x 4″ and the smaller is 9.5 x 13 x 3.5″. It's a pretty small difference but, if you're a purist who wants everything exactly the same, it may bother you (or you can group the larger ones together and the smaller ones together).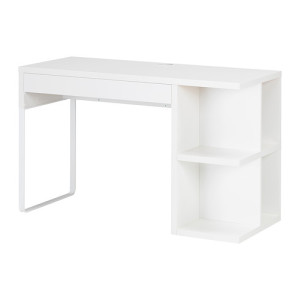 MICKE Desk. This desk is AWESOME for small spaces and comes in at just $79.99. It is 47.25″ wide, almost 20″ deep and 29.5″ high. The desk has front and side storage (kind of difficult to see in the photos). Since we put a file cabinet next to the storage side of the desk, we put the desk on 3″ rollers to make the rear side storage more accessible and also make the desk taller. The desk took about 30 minutes to construct and you can chose if you want the storage on the left or right. Also, the back is finished so it doesn't have to be against a wall. It also comes in black/brown but I prefer the clean look of the white.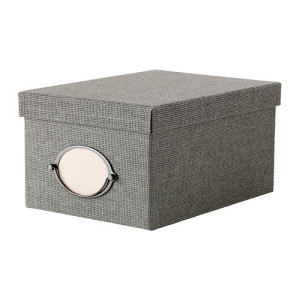 KVARNVIK Boxes. Though made only of cardboard, the faux material finish makes them look more expensive than the $7.99-$16.99 price tag. Also, the finish holds up GREAT against everyday nicks and scratches. They come in four sizes; I chose the 8.25 x 11.5 x 6″ for this office. The label holder is NOT already affixed so you can chose to place it on any side. I opted for the longer side so the boxes would fit better on the shelves. Putting together the boxes (we used eight) is easy but monotonous. You HAVE to be careful affixing the metal label holder because you can't unmake the holes… Also comes in white.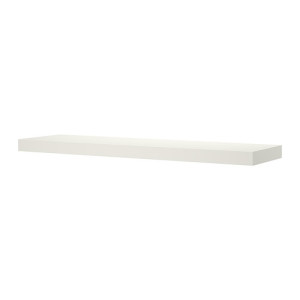 LACK Wall shelf. These floating shelves are a staple in organization. They come in five colors (white, black, black-brown, birch and red) and three sizes, ranging in price from $6.99-$19.99. The installation requires a basic comfort with powertools (electric drill) though I'm sure you COULD install them without, though it would be time-consuming. I recommend also have a real, heavy-duty level to ensure the shelves are straight. It's also best to really take your time installing the first shelf to make sure you do it correctly. For me, the first shelf took about 20 minutes; the others only 7 minutes each.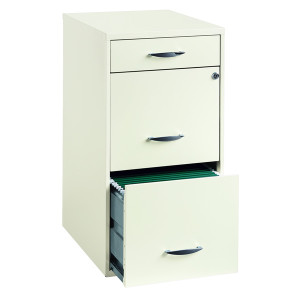 3 Drawer File Cabinet. I found this gem on Overstock.com. It took a LOT of searching to find a cabinet with this extra third drawer in white so bookmark this link if it's of any interest to you! Otherwise, it is a pretty standard file cabinet, metal, locks, easy slide drawers. The only assembly required is screwing on the handles.