Under the sink. Sigh. It's a constant disaster: misplaced trash, multiple open, half-used bottles of the same product, inaccessible items in the back, spills and leaks. In a nutshell, it's an organizational nightmare.
Something like this seems ideal!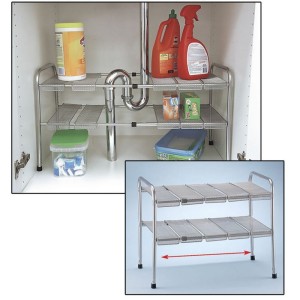 It looks great, its adjustable, the shelf pieces are all independent of one another… but a garbage disposal or a deep sink (which hangs lower into your cabinet space) can sure mess up this idea. Also, the independent shelf pieces can seem slightly less sturdy. If this solution works for you and you find the optimum placem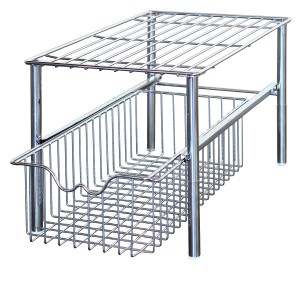 ent, I suggest using a strong adhesive to put the shelf slats permanently in place. It you want to try something like this or this (the drawer is really great to still have access to infrequently used items), my advice is to measure, MEASURE, MEASURE! Amazon makes returns easy but its better to get it right the first time.
The idea of using a shower curtain rod under the sink to hang spray bottles is not a novel idea (it's been all over Pinterest for years). However, I often hear people say it doesn't work, that it falls under the weight of a few bottles. The one SURE way to make sure your rod never falls is to use a Permanent Shower Rod like the one in this link. This only works if you have real wood cabinets, not pressed board as you will have to use screws.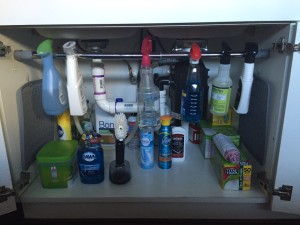 Personally, I've had tons of luck using a more simple Tension Rod. The key to making this work is to opt for a rod with as much rubber on the ends as you can find AND to be a complete BEAST in installing it. It's not a bad idea to have one person stretch the rod to its maximum (in the cabinet, of course) while another person twists it into the lock position. You can also use an adhesive, like E-6000, to add additional security.
I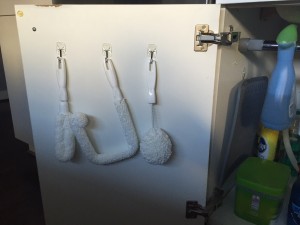 also recommend using Command Utensil Hooks to hang things like drying mats and scrub brushes. I opted to hang the drying mats on the inner side walls and the scrub brushes to the inside of a door.
T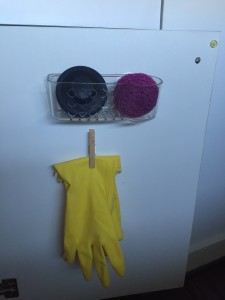 o hold the drain stopper and sponges, use E-6000 to glue a sponge caddy's suction cups to the inside of the other door. Last, and I know this seems a little tacky, I glued a clothes pin to the cabinet door to secure my dish gloves to the inside of a door.
Once you have figured out a solution which works for you, I cannot stress enough the need for maintenance. Make sure you place any product "back ups" as far back as you can so it is less likely to have multiple open products. If you like to refill products from larger bottles, consider keeping the refills in your laundry room or garage. Let me know what you decide and how it works for you!