Are you overwhelmed with the amount of "stuff" in your closet but don't know where to start your closet purge? Here is a simple, idiot-proof way to 1) let go of unwanted garments and 2) ensure you actually wear your wardrobe to the fullest. How, you ask?  Simple: turn your hangers backwards.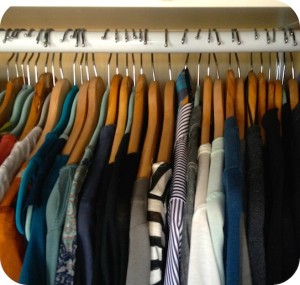 Easy Closet Purge
First, remove any clothing items you know do not fit, are in need of repairs (such as a broken zipper or missing buttons), have stains or show wear (tatters, holes, pilling). Turn the hangers of your remaining articles backwards. As you wear each item, replace the item on a "normal" facing hanger. At the end of a season, six months, a year, whatever, evaluate those items remaining and purge, purge, PURGE!
The Pareto Principle
You may hear about the Pareto Principle (or the 80-20 rule) in a business/economics setting but we can also apply it to your wardrobe closet purge, i.e. 80% of the time you only wear 20% of what is in your closet. I know I'm guilty of rewearing whatever seems to be a favorite of the month, neglecting other options. How do we break this habit? After turning all your hangers backwards, focus on only choosing and wearing backward facing garments before repeating forward facing garments. When you're down to that dozen or however many articles which you simply do not want to wear in favor of already worn items, ditch the unworn garments. Additionally, this tactic can help you create new outfit combinations by encouraging you to wear items not recently worn. My husband uses this method to ensure he doesn't accidentally wear the same polo two consecutive Casual Fridays 😉
In my closet, I have a three-bin laundry system and a hanging portable bag for dry cleaning. The first bin is for darks, the second for lights and the third is for donations. Once its full, away they go!
Give it a try and let me know how it goes 🙂